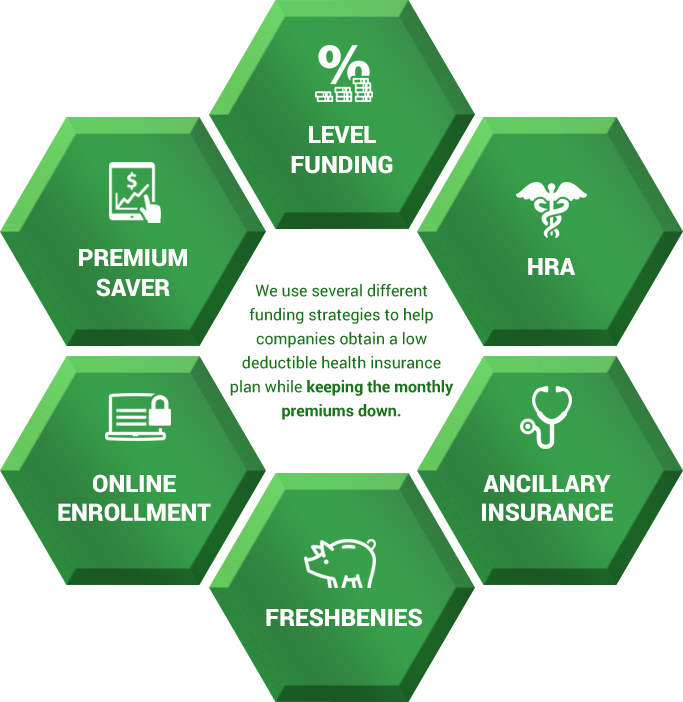 Blascak Insurance Services is committed to helping employers provide quality insurance benefits to their employers at an affordable price. We are true consultants that want to make sure employers and their employees understand how their benefits work – insurance today is not cheap and we are committed to making sure you understand what you're paying for. We use several different funding strategies to help companies obtain a low deductible health insurance plan while keeping the monthly premiums down.
Level Funding
This insurance model is by far, my favorite. It combines the "Fully Insured" and "Self Funded" insurance models and provides a way for healthy companies to find lower rates than the Affordable Care Act plans. Employers are able to obtain monthly claims data from their insurance carrier to see how much the carrier has paid in claims versus how much they have paid in premium. Also, if the company has a low claims year, they have the opportunity to get money back at the end of the plan year. Many companies have experienced large savings by enrolling in this insurance model.
Health Reimbursement Accounts (HRA)
this is a great way for employers to lower monthly health insurance premiums or offset a high renewal increase without sacrificing the quality of benefits they are offering their employees. The HRA is simply the employer purchasing a higher deductible plan that what they current have ( which lowers their monthly insurance premiums ) and agreeing to pay a portion of that deductible IF AND ONLY IF the employee ends up using the insurance. This a good way to offer a great plan to your employees and not break the bank.
Online Enrollment
In an attempt to make managing employee benefits on a daily basis easier for Owners and Benefit Administrators, we are now offering Online Enrollment and Administration through EaseCentral. Benefit Admins can now send new hires a link during the year where they can make their benefit elections online – the system shows the new hire when they are eligible for coverage, a description of the plans offered, network information and their cost per paycheck after the employer contribution has been taken out.
Ancillary Insurance
In addition to Health Insurance, Blascak Insurance Services also specializes in Dental, Vision, Life and Disability Insurance for employers and their employees. The ancillary market is what we refer to as a "soft" market – there are a lot of carriers available and we can normally find a company savings when we shop the market. Most companies look at these ancillary benefits as just that….ancillary. They take a back seat to health insurance and not much attention is paid to how they work. We take a different approach with these benefits and break down the plans and contracts so employees will learn the best ways to maximize their benefits.
Freshbenies
This is one of the greatest non-insurance programs available on the market today. Freshbenies is not insurance, but is a combination of services that can ultimately help save employers and employees money on health related issues. Freshbenies combines Teledoc, Prescription Drug discounts, a Specialist email feature and a Health Advocacy Service into one easy to use card……or app if you have a smartphone. Instead of employees calling off work to go to the doctor's office for something minor and having to pay their co-pay, they can either call or Facetime an actual doctor through the Teledoc service with a $0 fee. They speak with the doctor and can even have a prescription called into their local pharmacy for them.