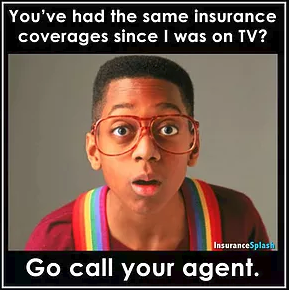 Boy this picture really brings me back a couple decades…..when our boy Steve Urkel started on Friday night TGIF, glam rock had just ended, flannel shirts were becoming super popular for some reason and a $500 deductible for health insurance was not unheard of. The good old days were good while they lasted – too bad we can't go back, right? Well, it doesn't look like the music or the fashions are coming back, but lately, I have been able to show my clients ways to lower their premiums and their deductibles…..some all the way down to a $500 deductible!!! Let's walk through this week's strategy – Premium Saver!
Last week I went into detail on how you can save money on your insurance premiums by simply implementing an HRA. Here's a quick refresher – The employer purchases a plan with a higher deductible than what they currently have…..this saves them premium. Instead of simply giving the employee a higher deductible plan, the employer takes on a bit more financial risk and agrees to pay part of the deductible ONLY IF the employee exceeds a certain $ amount in deductible expenses. It's a great way for the employer to lower their monthly premium and only pay more if the employees are using the plan a lot.
For some employers, this is a great solution. For others, they love the concept, but always have that nagging feeling in the back of their mind of, WHAT IF???? What if several employees have claims this year? What if a lot more employees start using the plan now? These are legitimate concerns – as an answer to those concerns, I introduce the Premium Saver product into the equation.
In a nutshell, Premium Saver acts as an HRA, but instead of the employer paying for the HRA funds, Premium Saver pays for them. It essentially is like buying some insurance to cover part of your insurance deductible for your employees. Here's how it works:
An employer purchases a higher deductible plan to lower their month premium
Instead of agreeing to pay for the back end portion of the deductible with employer funds like an HRA, they purchase a low costing Premium saver plan to cover these expenses.
The employer pays for their Health Insurance premiums and the premium for the Premium Saver plan, but they DO NOT take on the risk of having to pay anything additional if the employee exceeds their deductible amount.
Most of the time, we can match the plan the group currenly has, or even make it better for less money
Here's a quick example:
This same employer currently has a $3,000 deductible, 100% plan
They purchase a $5,000 deductible, 100% plan to lower their monthly premium
They add a Premium Saver plan – in this case, we set up Premium Saver to have a $500 deductible, then have the employee pay 50% to an out of pocket maximum of $2500
The Premium Saver plan ONLY picks up 50% of the underlying $5,000 deductible after the employee has satisfied their $500 deductible.
This $500 deductible, 50% plan is a MUCH better plan than what the employee currently has ( $3,000 deductible plan ) and most times it actually costs less than what they are currently paying for insurance
The addition of Premium Saver typically saves monthly premium because they only cover deductible expenses that your plan covers, they don't have to pay into networks or pharmacy benefit managers like the underlying major medical plan, and they don't cover doctor visits or prescription drug claims, so you simply incorporate this with a health insurance plan that has co-pays to cover these.
All in all, this is a great way to help employers save money and offer a great plan without taking on the financial risk of an HRA. Tune in next week – I'll be going over strategy #4 – BEAZLEY – How to turn that $3,000 deductible into a $0 deductible for your hospital claims AND save money!!
Have a great weekend and GO BUCKS!!
Joe IV
President
Blascak Insurance Services
[email protected]
614.870.1775